Havasu Falls is located 2,4 km (1.5 mi) from Supai city at the bottom of the Grand Canyon in the Havasupai Indian Reservation. The name "Havasupai" means "people of the blue-green waters", and it is easy to see where this name comes from. An oasis located in a remote canyon of the arid Arizona, Havasu is considered one of the most photographed waterfalls in the world. Photo by: LouisSaint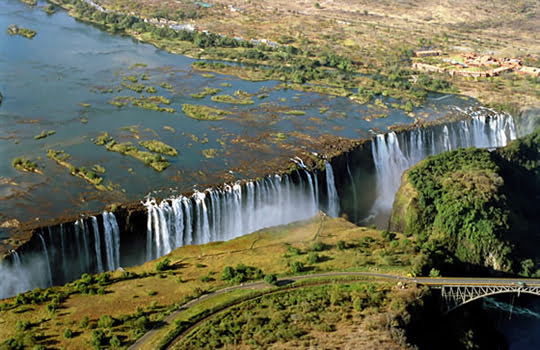 Victoria Falls or Mosi-o-Tunya (the Smoke that Thunders) is a waterfall located in southern Africa between the countries of Zambia and Zimbabwe. Victoria Falls is one of the most famous falls on the planet, considered to be among the Seven Natural Wonders of the World. While it is neither the highest nor the widest waterfall, it is claimed to be the largest. Photo by: bestsouthafricatours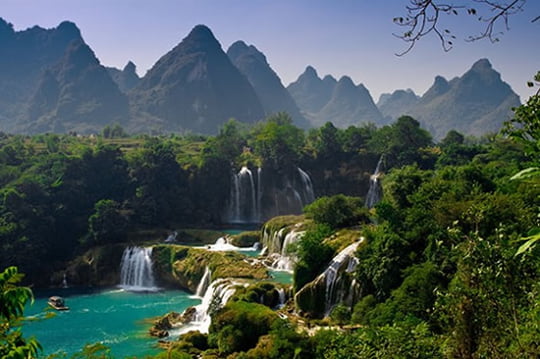 Detian Falls or Ban Gioc Falls are 2 waterfalls located in Daxin County on the Chinese side, and in the district of Trung Khanh, on the Vietnamese side. The Ban Gioc Falls crosses the boundary between China and Vietnam and joins with the Banyue Waterfall in Vietnam. It is the largest waterfall in Asia and the fourth largest waterfall along a national border in the world. Photo by: B_cool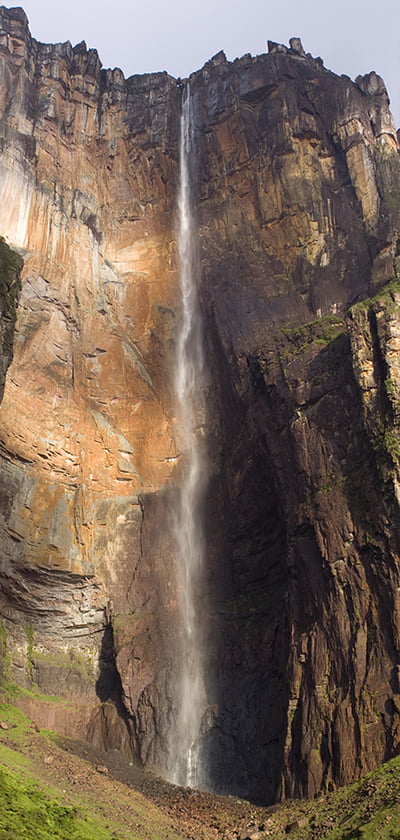 Angel Falls or Salto Angel is the world's highest waterfall, with a height of 979 m (3,212 ft.) and a plunge of 807 m (2,648 ft.). The waterfall drops over the vertical walls of the Auyantepui Table Mountain in the Canaima National Park, Venezuela. Because of its impressive height, before getting near the ground much of the water is carried away as a fine spray by the wind. Photo by: ENT108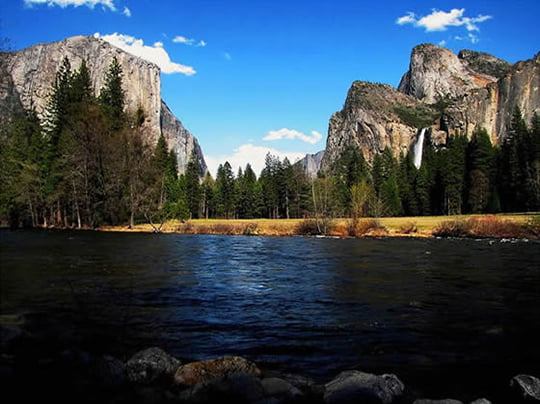 Bridalveil Falls is one of the most prominent waterfalls in the Yosemite Valley, California. Its white water falls free with remarkable force from the edge of the valley for 188 metres (617 ft.) against the dark background of conifers all year round. Photo by: Wallpaper-s.org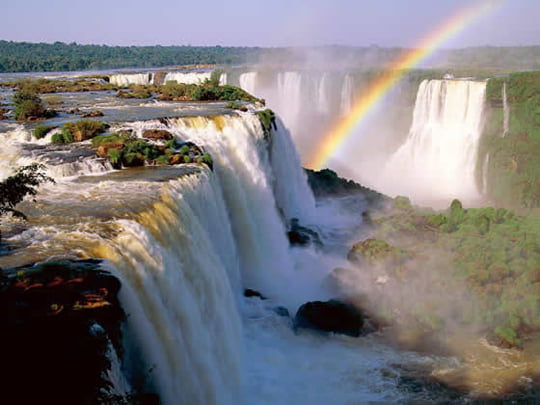 The breathtaking Iguassu Falls are part of a National Park with the same name, divided between Brazil and Argentina. They can be reached from two main towns on either side of the falls: Foz do Iguaçu in the Brazilian and Puerto Iguazú in the Argentina. Iguassu Falls affords great views and walkways and its shape allows for spectacular panoramic vistas. At one point a person can stand and be surrounded by 260 degrees of waterfalls.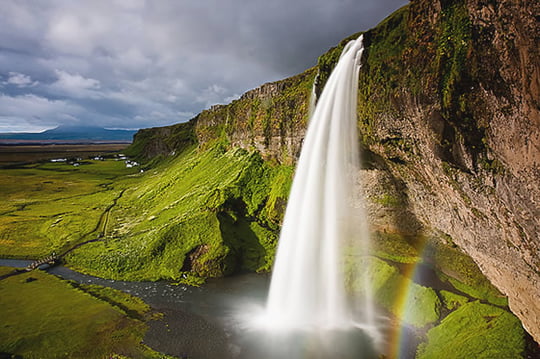 The picturesque Seljalandsfoss is one of the most famous waterfalls of Iceland. It is located about 18.6 miles (30 km) from Skógar, between Selfoss and Skógafoss. It drops 40 metres (130 ft) over a cliff, which has a foot path at its bottom where you can go behind the waterfall. What makes Seljalandsfoss so stunning is the vast lush green grassland landscape that surrounds it, giving it an out of earth sight. Photo by: Jón Óskar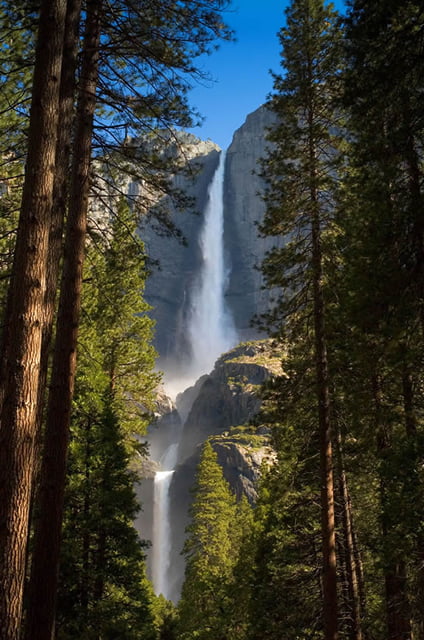 Yosemite Falls are a group of three-stepped falls located in Yosemite National Park in the Sierra Nevada, California, USA. Set in scenic valleys and canyons, these waterfalls are iconic symbols of the grandeur of the national park. Photo by: tychay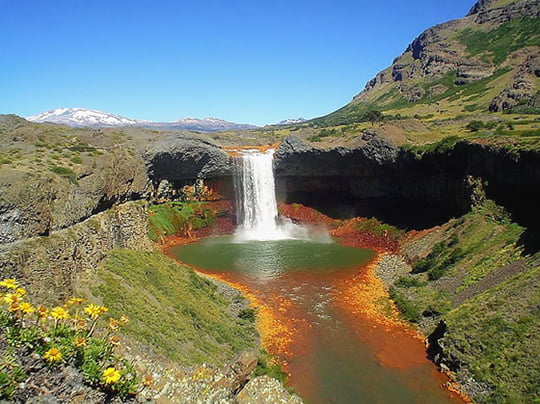 Located in the town of Caviahue, Salto del Rio Agrio (Agrio River Waterfall) is a cascade about 60 meters (197 ft.) high, which drops to a small green pool surrounded by yellow and red basaltic rocks. This colourful contrast and the trees called "araucarias" that surround the region make this waterfall really charming. Photo by: *Czarina*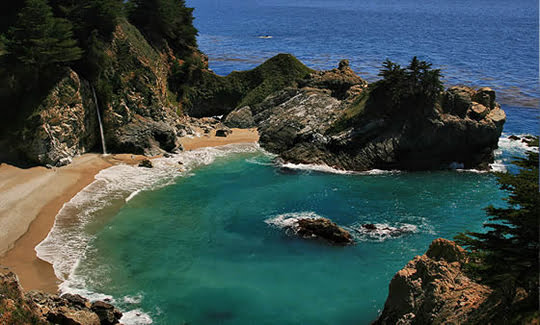 McWay Falls is an impossible scenic 80-foot high (24 m) waterfall located in Julia Pfeiffer Burns State Park that flows year-round. It drops off a cliff directly onto a beach situated within a little cove shortly before it joins the Pacific Ocean. Photo by: Mila Zinkova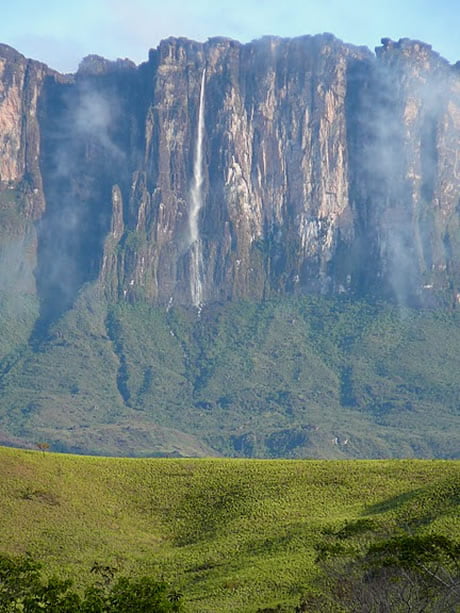 Located 22 km from San Francisco de Yurani, the Cuquenan Falls, also known as Kukenam, is the second tallest major waterfall in Venezuela and it is amongst the ten highest free leaping waterfalls of the world. Photo by: Rhonny Lanz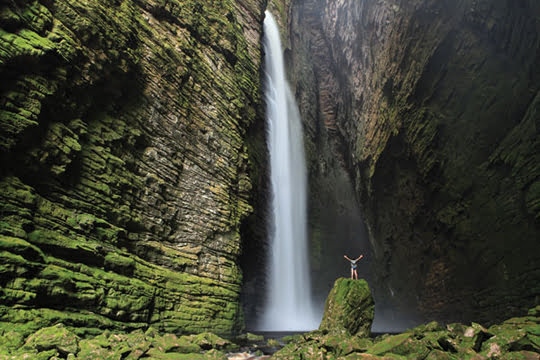 In Chapada Diamantina, Bahia, hidden amidst huge rock walls, is the amazing Fumacinha Falls (in English: Little Smoke Waterfall). The drop of about 100 meters (330ft.) intrigues its visitors. The view is surreal: canyons 250 meters (820 ft.) high full of mosses join together at the top, resembling a cathedral, from where come the waters of the falls, dropping in a huge natural pool. Photo by: Rui Rezende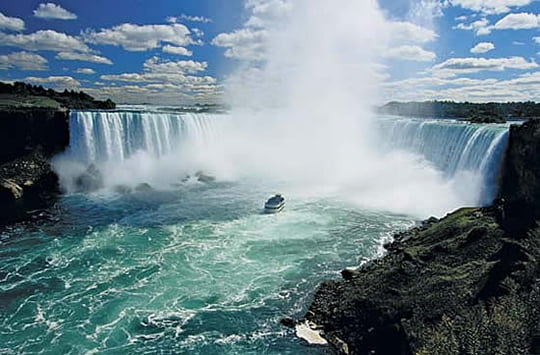 Niagara Falls is situated on the Niagara River, marking the international border between New York, USA and Ontario, While not exceptionally high, the Niagara Falls are the most powerful waterfalls in North America. Photo by: betzy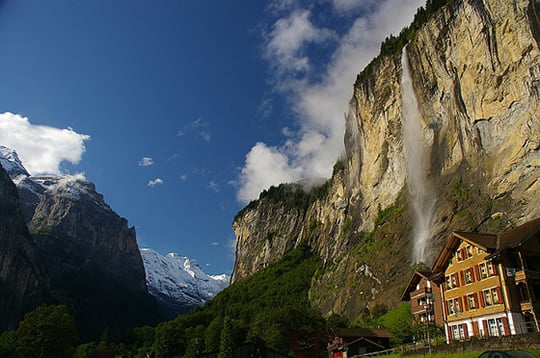 Staubbach Falls is a waterfall located just above of the municipality of Luterbrunnen, in the Lauterbrunnen Valley. What makes this waterfall so incredible is its position. It seems like its falling right above the town. What a wonderful yard for those who lives in Lauterbrunnen. The valley, as well as the Swiss Alps, in the background complements the landscape. Photo by: SBA73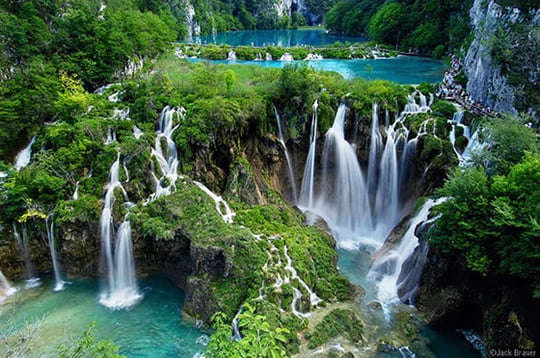 The beauty of Plitvice Lakes National Park lies in its sixteen lakes, inter-connected by a series of waterfalls. They are separated by natural dams of travertine, which is deposited by the action of moss, algae, and bacteria. What makes the waterfalls here so beautiful are the renowned distinctive colors of the lakes that ranges from azure to green, grey or blue. Photo by: Jack Brauer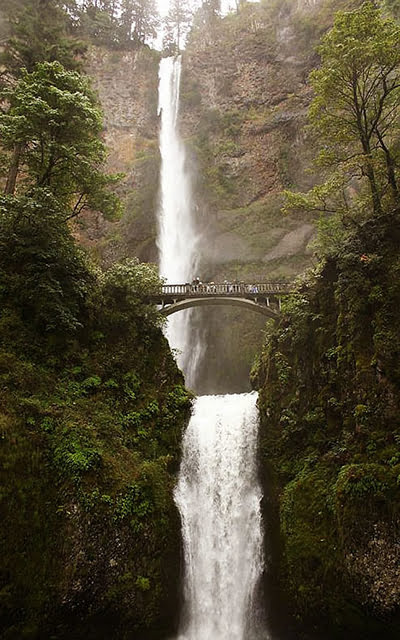 The Multnomah Falls located in Corbett, Oregon, What makes this peaceful and forceful waterfall so iconic is the Benson Footbridge – a 45-foot (14 m)-long concrete arched bridge at the top of the lower waterfall, which divides, in the middle, the frame view of the two tiers. Photo by: Kelvin Kay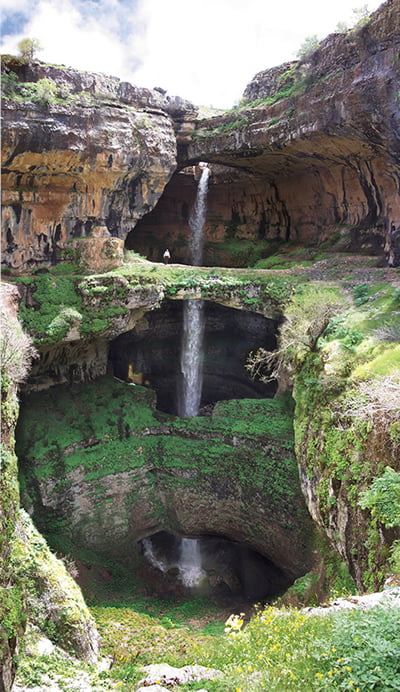 Baatara Gorge Waterfall (or the Baatara Pothole Waterfall) is located in the village of Balaa, between the cities of Laqlouq and Tannourine, Lebanon. This unexpected waterfall drops 255 metres (837 ft.) into a cave and falls behind three natural bridges, which raise one above the other and overhang the chasm descending into Mount Lebanon. Photo by: Missakassim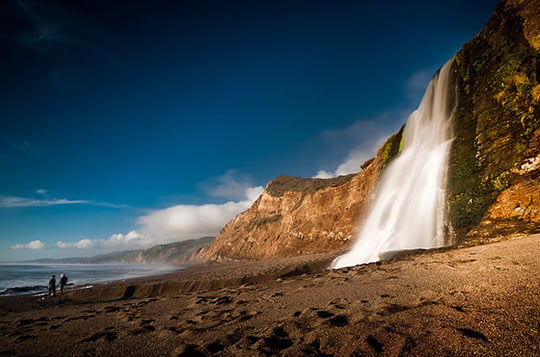 Located in Pt. Reyes National Seashore, near Bolinas, California, Alamere Falls sounds like a fantasy as it is a rare 12 meters (40 ft.) scenic waterfall that drops right into a beach before join the Pacific Ocean. Photo by: Marumuchisimu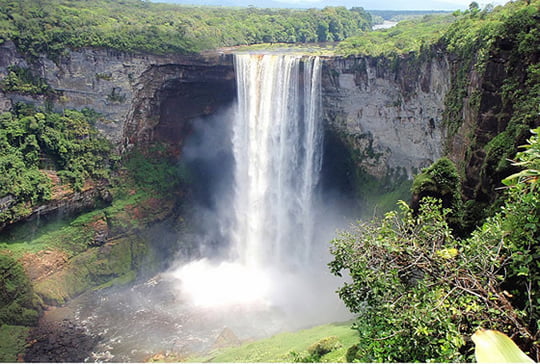 Kaieteur Falls is a 226 meters high (741 ft.) waterfall with world-class dimensions located on the Potaro River, Kaieteur National Park, Guyana. It flows over a flat sandstone cliff and then plunges down in a single drop between an unspoiled tropical rainforest without any signs of civilization. Photo by: Globe trodden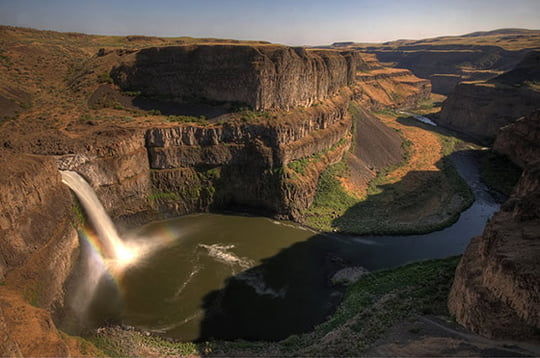 Palouse Falls is located in Wastucna, Palouse Falls State Park, Washington, USA. The falls itself is stunning, but due to its surrounding rock formations it gets even more magic. The waterfall cut deep through the black basalt highlands and falls a precipitous into a circular bowl carved out of the rock, like an amphitheater. Photo by: Takeshi Sugimoto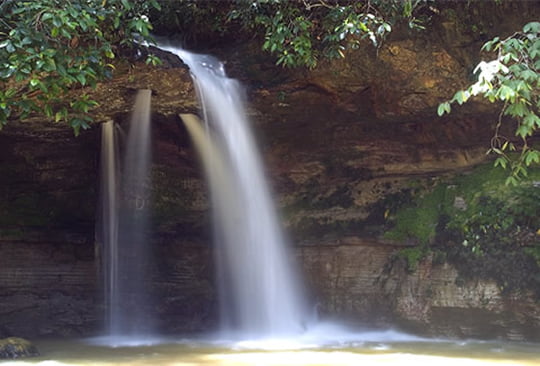 Located in the municipality of Presidente Figueiredo, in the state of Amazonas, Cachoeira da Pedra Furada (in English: Holed Stone Waterfall) is so named, because it drops 30 meters (98 ft.) from the top of a large three holed rock , forming a beautiful and inviting natural swimming pool of calm waters. Photo by: Presidente Figueiredo Prefecture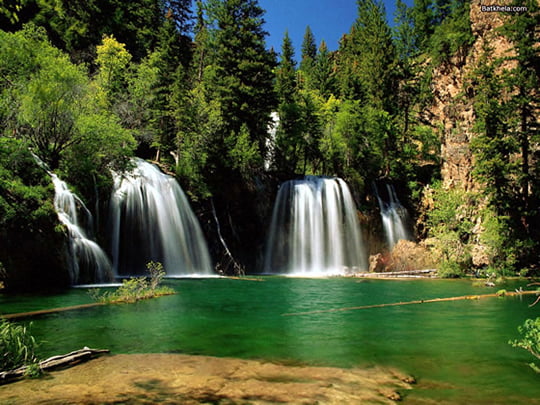 The Hanging Lake is located in Glenwood Canyon, about 7 miles east of Glenwood Springs, Colorado, USA. The reason for its name is that the Hanging Lake is nested on a high ledge in a narrow canyon. The frame scenery is impressive: the waterfalls drop into a crystal-clear lake colored in hues of green and aquamarine, surrounded by lush pine vegetation. Photo by: Batkhela.com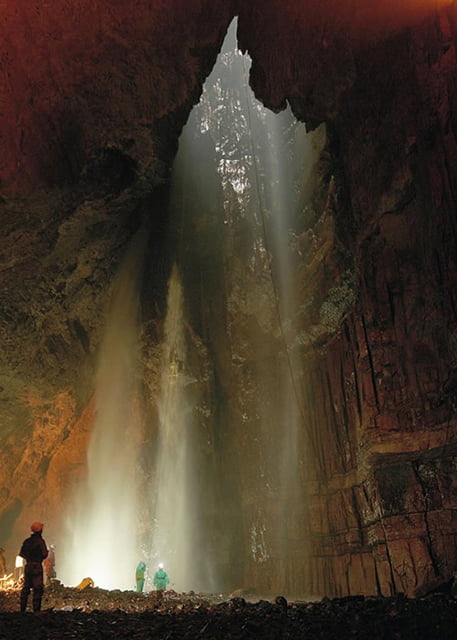 The unimagined Gaping Gill Waterfall (also known as Gaping Ghyll) is located in Ingleborough, North Yorkshire. Situated at the bottom of a large crater, Gaping Gill, the largest cavern in Britain, engulfs a stream named Fell Beck that ends its course abruptly, forming a waterfall that plunges 344 ft. (105 metres) down deep into a pothole and lands on a cathedral sized limestone chamber. Photo by: duddley bug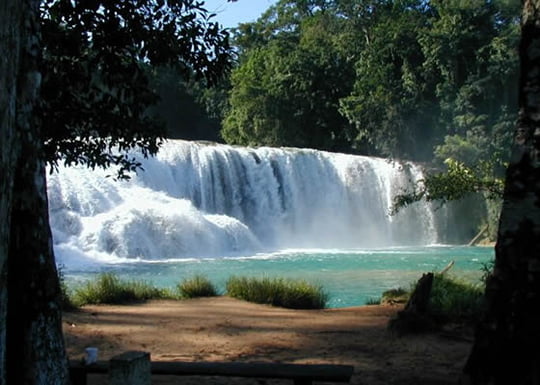 The Cascadas de Agua Azul (Spanish for "Blue Water Waterfall") are found near the Municipality of Tumbalá, in the middle of the Chiapas rainforest, Mexico. It consists of many cataracts following one after another in the Cascadas de Agua Azul Natural Park. The stunning blue colour that distinguishes these waterfalls is due to the limestone through which the waters pass. Photo by: David Tuggy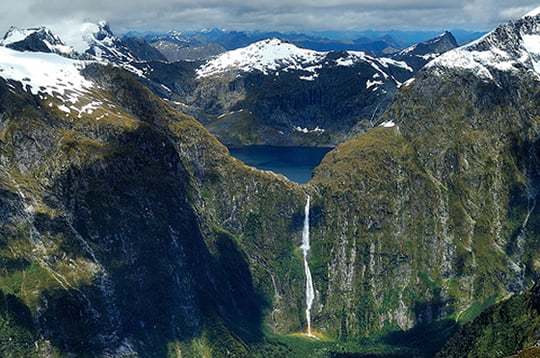 Sutherland Falls is a waterfall near Milford Sound in the Fiordland National Park. Amongst the tallest waterfalls in the world, it has a steep slope. It is fed by a small circular lake that spills almost directly down a near-vertical mountain-wall into a valley. Its most beautiful angle is taken from above on a helicopter flight, when you can see the lake behind the waterfall framed with snow-capped mountains in the cold seasons. Photo by: Startzell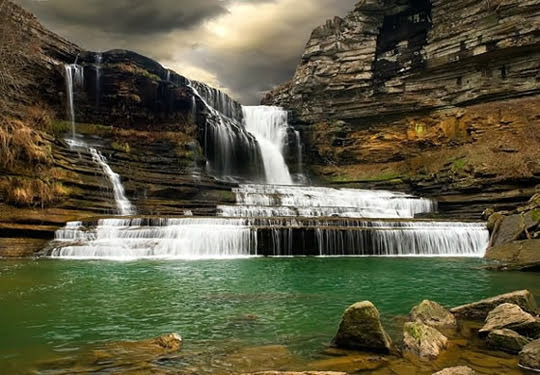 Located just northwest of Cookevill, Tennessee, within the boundaries of Cummins Lakes Provincial Park, Cummins Falls is the largest waterfall of the Cummins River with 23 meters (75 ft.) in height. Situated between the two Cummins Lakes, the falls drop directly out of one, and into the other. Lying in the rocks, its dramatic topography resembles a stair. Photo by: LP – Travels and Explorations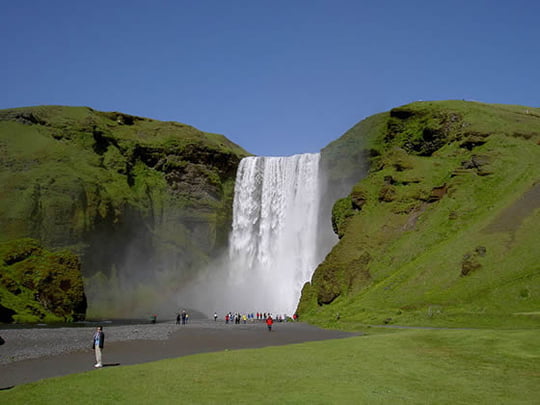 Located near Skógar, the impressive Skógafoss is one of the biggest and most beautiful waterfalls in Iceland with a width of 25 meters (82 ft.) and a drop of 60 meters (200 ft). It has a vast panoramic view and it is surrounded by lush green grassland. Due to the amount of spray the waterfall consistently creates rainbows on sunny days. Photo by: Chris 73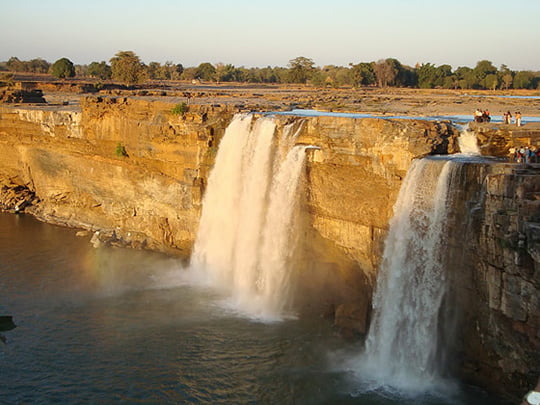 The Chitrakoot Falls (alternative spelling Chitrakut) is located near Jagdalpur, in the state of Chhattisgarh. It is the largest waterfall in India. During monsoon, it widens up to 150 meters and its waters turn wild and violent. During winter season, the water becomes calmer and lighter and the waterfall looks different, with fewer and delicate falls, a delightful time for photographers. Photo by: Anag_jn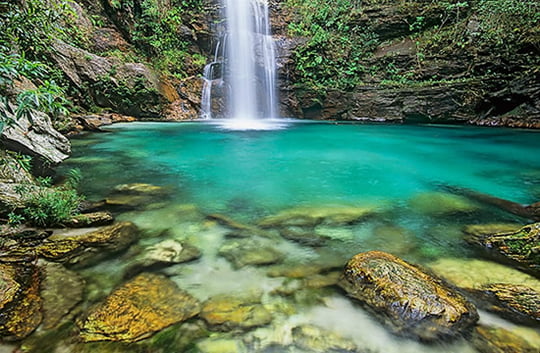 Located in the village of Engenho II, 25 km (15 mi) from Cavalcante, Chapada dos Veadeiros, in the state of Goiás, Cachoeira de Santa Bárbara (in English, Santa Barbara Waterfall), with a drop of 30-meter (98 ft.) high, enchants its visitors with its incredible turquoise natural pool suitable for swimming all year round. Photo by: Alex Uchôa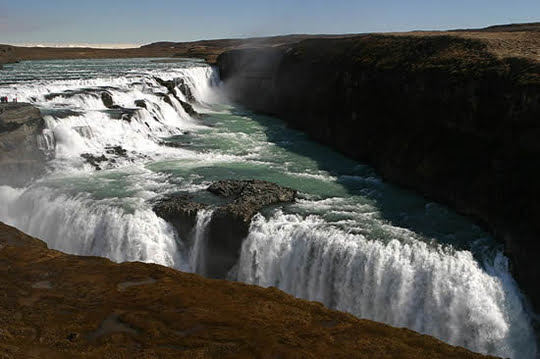 Gullfoss (in English, The Golden Waterfall) is Iceland's most famous waterfall and one of the most popular tourist attractions in the country. It is also by far Europe's most powerful waterfall. Located in the canyon of the River Hvítá, it is 32 meters high, 20 meters wide and it drops into a narrow canyon that's up to 70 meters deep and 2.5 kilometers long. Photo by: WoSie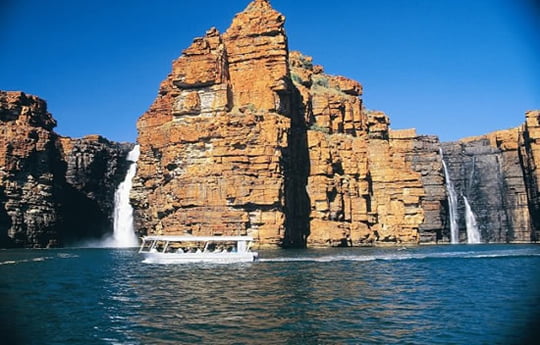 King George Falls is a magnificent dual waterfall that drops 80 meters vertically into a dramatic gorge. It is located on the King George River in Western Australia. The scenery is stunning and the grandeur of the orange gorge increases as you get closer to the waterfalls. Photo by: cruisepassenger.com.au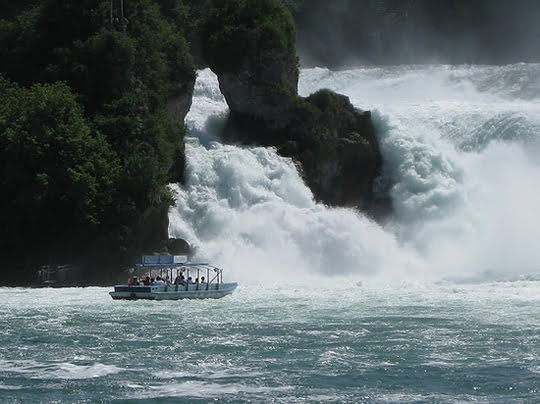 Rheinfalls or Rhine Falls is the largest waterfall in Europe. Located near the town of Schaffhausen in northern Switzerland, it is 150 m (450 ft) wide and 23 m (75 ft) high. Although it is fairly low in height compared to other waterfalls, the amount of river water that cascades over the rocks is more than enough to discourage some visitors from getting a closer view of the falls. Photo by: wandaeric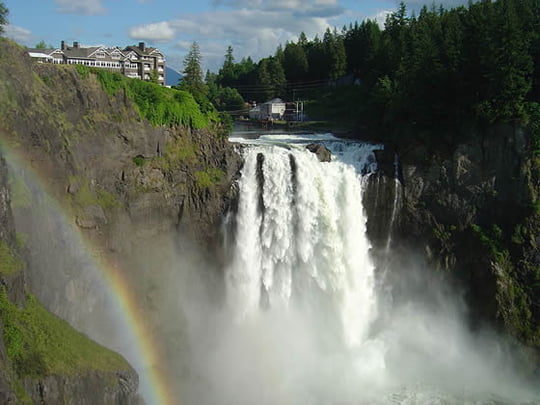 The breathtaking Snoqualmie Falls is a waterfall located between Snoqualmie and Fall City, Washington. The historic Salish Lodge & Spa overlooks the waterfall cascading 82 meters (268 ft.) over granite cliffs. Photo by: Cefka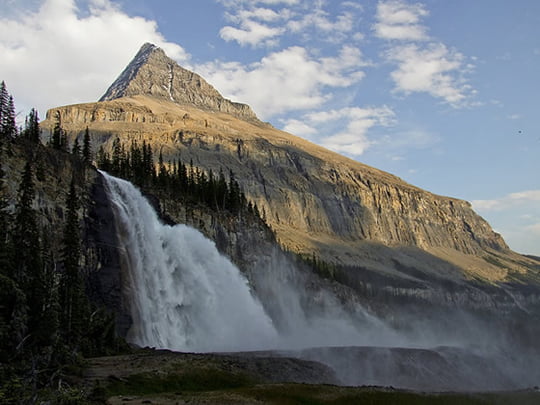 At 46 meters (150 ft.) tall, Emperor Falls is the largest and best-known waterfall in Mount Robson Provincial Park. To complement the scenery, Mount Robson, with its piramide shape, stands above and behind the waterfall, providing a sigh even more extraordinary. Photo by: Feffef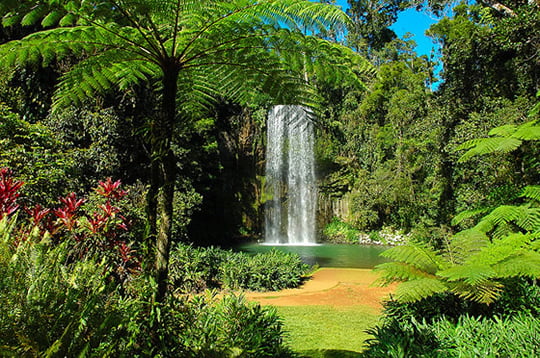 Millaa Millaa Falls, one of the most photographed waterfalls in all of Australia, are located near the town of Millaa Millaa, Far North Queensland. The scenic 18.3 metres (60 ft.) high falls cascades into a pool suitable for swimming. Something special about this waterfall is the magnificent lush tropical foliage that surrounds it. Photo by: Compot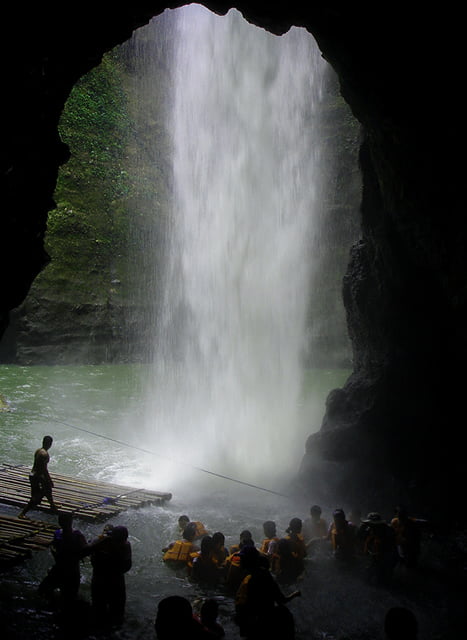 Pagsanjan Falls is one of the most famous waterfalls in the Philippinnes. The highlight of this waterfall is the bamboo raft (or balsa) ride, which goes directly under and behind the falls, where there is a huge cave called Devil's Cave. Photo by: The Wandering Angel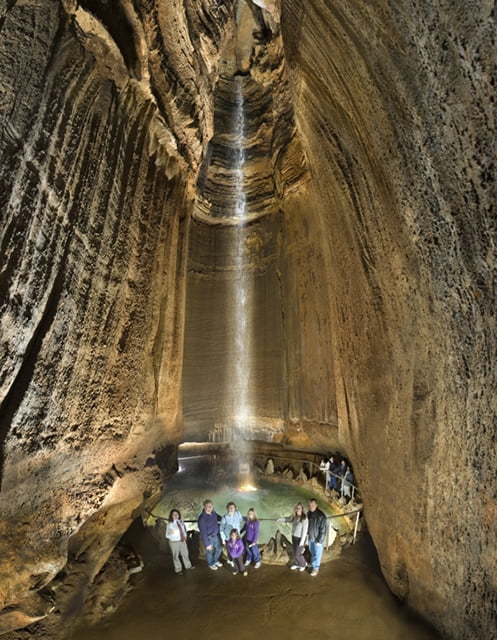 Ruby Falls is a 44 meter (145 ft.) high underground waterfall located about 341 meters (1120 ft.) below the top of Lookout Mountain, near Rock City and Chattanooga, Tennessee, USA. This surprising waterfall comes from the roof inside a cave, is collected in a pool in the cave floor and then continues through the mountain until finally join the Tennessee River. Electric lights were installed in the cave to turn it attractive colored. Photo by: rubyfalls.com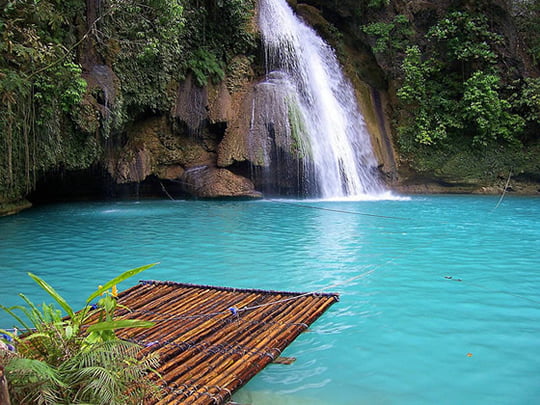 Located near the town of Badian, Cebu Island, Kawasan Falls is actually a hierarchy of three waterfalls, of which the first is the largest and usually the most crowded, however the scenery gets wilder and more impressive the further up you go. Volcanic rock formations make up 11 meters (38 ft.) deep stunning turquoise pools, which are surrounded by lush, green tropical vegetation. A bamboo raft can take you for a refreshing "waterfall massage" under the falling water.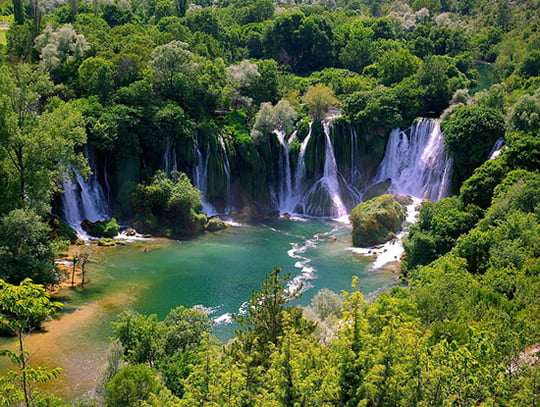 Located 7 km (4.3 mi) from Ljubuski, Kravica Waterfall (also called Kravice Waterfall) stretches over 100 meters (328 ft.) across and drops over 25 meters (82 ft.) into a crystal-green natural pool surrounded by a horseshoe-shaped canyon. Photo by: coatofarms3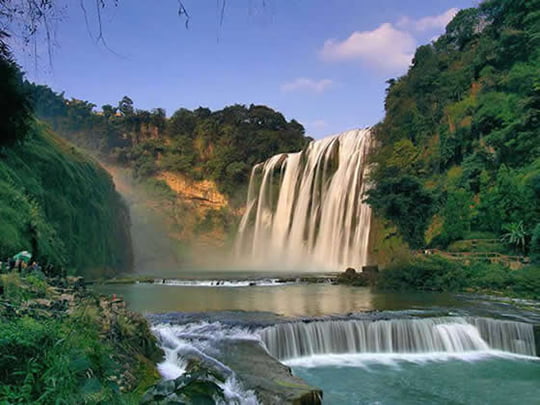 Located 20 km from Luoping county town, in a valley with a length of 4 km (2,5 mi) and a depth of 200 meters (656 ft.), Jiulong Waterfall is made up of 10 cascades, known as Nine-Dragon Waterfalls, each forming a pool underneath.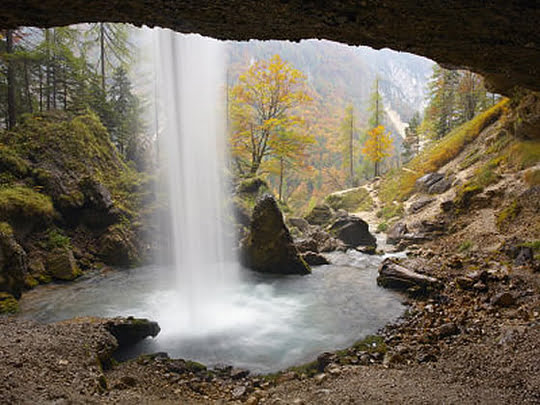 Located in the Julian Alps, about 5 km (3 mi) from Mojstrana, Pericnik Waterfall drops 16 metres (52 ft.) down to the first ridge from where it then descends 52 meters (170 ft.) down the bottom waterfall. A beautiful feature that enhances its visitors is a cave situated at the bottom of the falls, which allows one to walk behind it and see the waterfall through a different angle.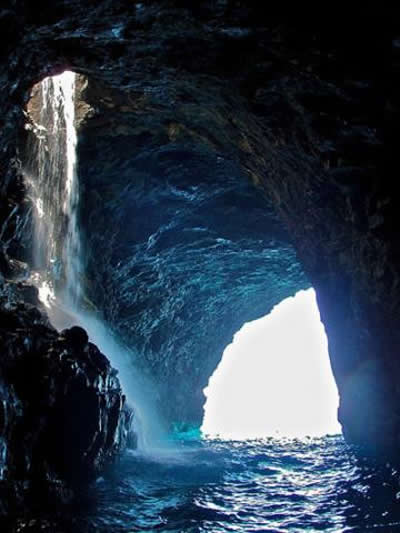 Located along the Na Pali Coast on the island of Kauai, this remote cave is accessible only by zodiac raft or kayak. A fissure in the roof of the volcanic rock allows a waterfall to drop into the amazing cavern. It's a beautiful sight in the bright sunlight when the sun's reflection turns the ocean's water into a myriad of blues and greens.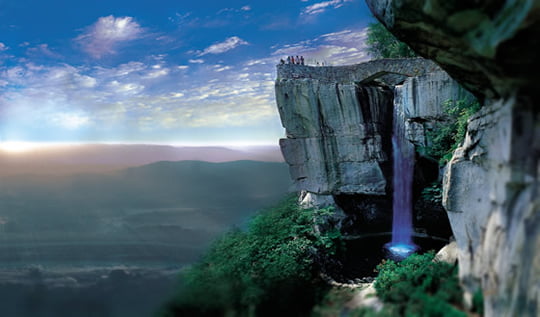 The High Falls of the Lookout Mountain is a man-made waterfall located in the Rock City, Chattanooga, Tennesse. It is an impressive feat of engineering approximately 43 metres (140 ft.) high that falls into a base like a small pool.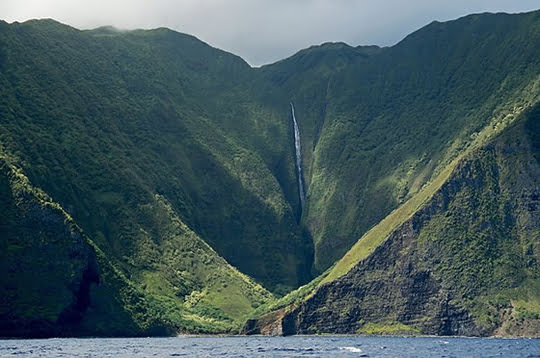 Papalaua Falls are located in the deep Papalaua Valley, near Halawa, northern part of Moloka'i Island. Its surrounding landscape is characterized by extremely tall sea cliffs, deep valleys and lush green vegetation. It waterfall flows for 501 metres (1,250 ft.) along a very steep fissure made by the force of the stream. Photo by: arcflower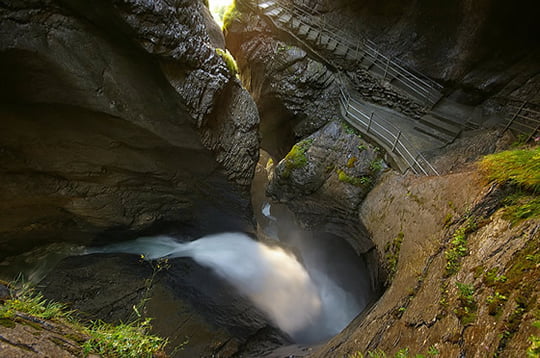 The extraordinary Trummelbach Falls (In German: Trümmelbachfälle), near Lauterbrunnen, are a series of ten glacier-waterfalls hidden inside a mountain. It is an unusual place where water itself has cut its way through the hard rock, creating deep crevices and caves. The only way to see the chutes is going on a subterranean walk through a man-made series of tunnels that let visitors see the cascades be shooting out through the confined space. Photo by: SBA73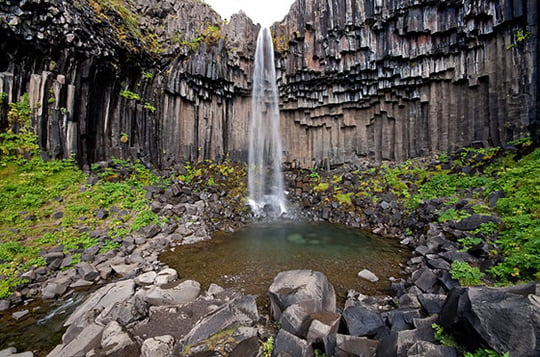 Svartifoss (Black Fall) is a waterfall in Skaftafell National Park, framed with dark lava columns, which give rise to its name. This waterfall stands out thanks to the very pronounced hanging hexagonal basalt columns underlying it that resemble organpipes. Photo by: aspheric.lens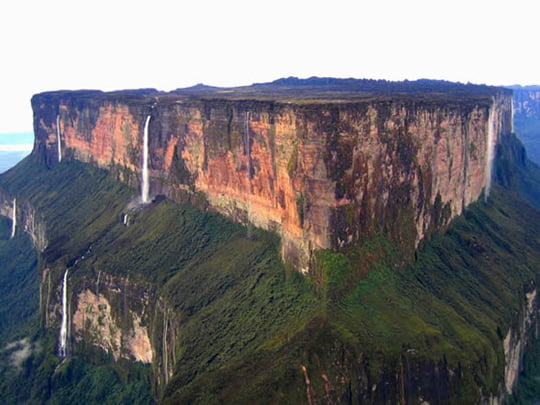 From the top of Mount Roraima, millions of liters of water are drained, forming several incredible high waterfalls (named "Roraima Falls"), which drop the 400-metre (1312 ft.) tall cliffs of the tepuy. Photo by: dade's wug site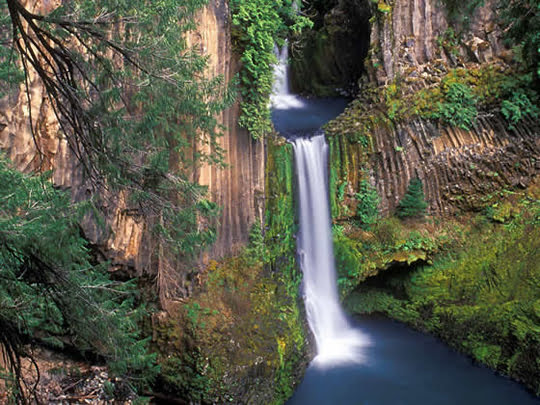 Framed by graceful columnar basalt formations, the Toketee Falls are located east of Roseburg, Oregon. These two-stepped falls are in a carved sinuous gorge that results in a waterfall of 36 meter (113 ft.) in height. Photo by: wallpaper0fnature.info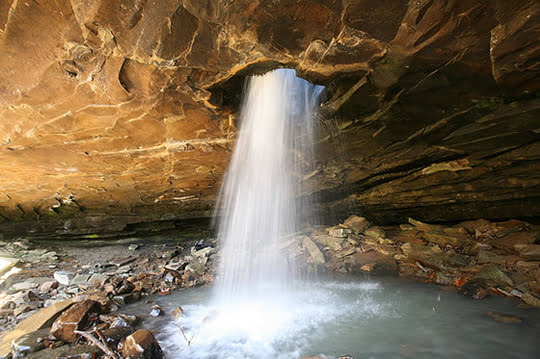 The Glory Hole Falls is located near Swain, in Newton County, Arkansas. Although it is in a little-visited place, this waterfall seems unreal as a creek pours directly through a perfectly rounded hole 7,62 meters (25 ft.) from the ceiling of a cave. Photo by: N317537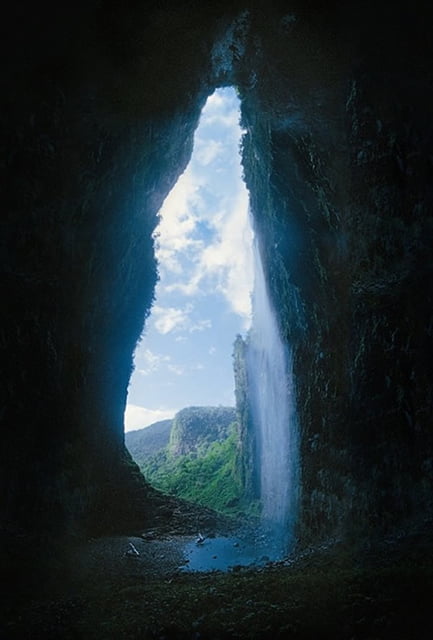 Discovered in 2006, Cueva del Fantasma ("Cave of the Ghost" in Spanish) is a giant cave in southern Venezuela, so huge, that it is big enough for two helicopters land on the floor. Located in a remote region, this spectacular waterfall comes down from its wall forming a pond at the floor and making the image of the cave even more surreal.